Writer/director Stanley Tucci on the set of his film "The Imposters."
STANLEY TUCCI BREAKS OUT
by Susan Royal
When an actor finds himself cast as the heavy in role after role, how does he take control of his career? If he's Stanley Tucci he can create and star in his own films. After playing such memorable bad guys as the dog catcher in "Beethoven," the Arab assassin in "The Pelican Brief" and the charismatic psycho Richard Cross in the Steven Bochco television series "Murder One." Tucci co-wrote, co-directed and co-produced the 1996 indie hit "Big Night," casting himself in his first leading man film role. The critically acclaimed film was a moving yet understated love letter to Tucci's Italian-American heritage and established him as an important new voice in film.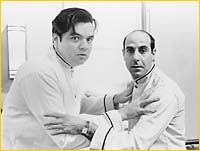 Oliver Platt and Stanley Tucci star in Stanley Tucci's "The Imposters."
Such subtlety and restraint is nowhere to be found in Tucci's latest directing effort "The Imposters," an hilarious romp on board a 1930s luxury ocean liner, which he also wrote and co-produced. Tucci stars with Oliver Platt ("Dangerous Beauty", "Bulworth," "Doctor Dolittle") as two desperately ambitious but chronically unemployed actors during the Depression era who inadvertently stowaway on board the ship. It takes all the acting skills this enterprising duo can muster to keep their true identities secret. Thus the ship becomes their long-anticipated stage as they interact riotously with the assorted oddballs and lunatics who comprise the passenger roster.
As he did with "Big Night," Tucci has called on many of his actor friends--fellow leading lights of the indie film world--to populate his ship of fools. He reunites "Big Night" alumni Tony Shalhoub, Campbell Scott, Isabella Rossellini and Allison Janney, who are joined by Lili Taylor, Steve Buscemi, Elizabeth Bracco, Billy Connolly, Hope Davis, Dana Ivey, Richard Jenkins, Teagle Bougere, Allan Corduner and Matt McGrath. Tucci directs this talented ensemble to some of the funniest moments in recent screen history. Scratch "recent." "The Imposters" is reminiscent of the best of Charlie Chaplin and the Marx Brothers.
| | |
| --- | --- |
| Steve Buscemi stars in Stanley Tucci's "The Imposters." | Lili Taylor and Campbell Scott star in Stanley Tucci's "The Imposters." |
That he could make a deeply personal film like "Big Night" and follow it up with this raucous comedy, demonstrates not only tremendous range as a director, but the ability to make great independent films minus the requisite edginess, quirkiness or violence. Tucci knows how to create characters we care about. In addition, what "Big Night" and "The Imposters" have in common is a wonderful sense of whimsy, which hopefully we can look forward to in many more Stanley Tucci films to come.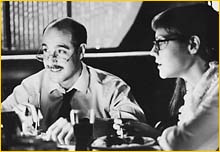 Heinrich (Stanley Tucci) and Sally (Mary McCormack) in "The Alarmist."
[Also look for Stanley Tucci in "The Alarmist," a first feature for writer/director Evan Dunsky, based on Keith Reddin's Off-Broadway play "Life During Wartime." Tucci plays Heinrich Grigoris, the suave con artist boss of a door-to-door home security systems salesman played by David Arquette. Tucci describes his character Heinrich as "a very eccentric and aggressive character. He's the kind of guy that you meet and you like him, you're charmed by him. You might have him over for dinner, but you'd definitely not want him to stay over." This black comedy/whodunit also stars Kate Capshaw, Mary McCormack and Ryan Reynolds.]



Inside Film Home | News & Views | Film Fests by Month
Screenwriting | Past Articles
All Inside Film logos, artwork, stories, information and photos are
© 1997-2020 Inside Film Magazine. All rights reserved.
Do not duplicate or distribute in any form. All other logos,
artwork and photos are © their individual owners.