The Favourite, Starring Emma Stone, Opens the Denver Film Fest
The 41st edition of the Denver Film Festival has announced its Opening Night, Centerpiece and Closing Night films. Yorgos Lanthimos' The Favorite, set in the 1800s and starring Emma Stone, Rachel Weisz and Olivia Coleman, opens the festival on October 31.
The Centerpiece selection is Neil Burger's The Upside, starring Bryan Cranston, Kevin Hart and Nicole Kidman.
The fest closes on November 10 with Brady Corbet's Vox Lux, starring Natalie Portman as a pop star.
The Front Runner, starring Hugh Jackman as Colorado Senator Gary Hart, will premiere as the "Big Night Presentation" on November 8, with director Jason Reitman appearing in person.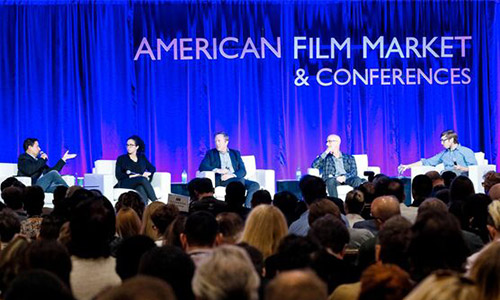 The American Film Market Runs October 31 – November 7 in Santa Monica
Over 7,000 industry leaders converge in Santa Monica for eight days of deal-making, screenings, conferences, networking and parties. Participants come from more than 80 countries and include producers, distributors, financiers, acquisition and development execs, agents, attorneys, directors, writers, the world's press and others who provide services to the film industry.
For more info: americanfilmmarket.com/attendees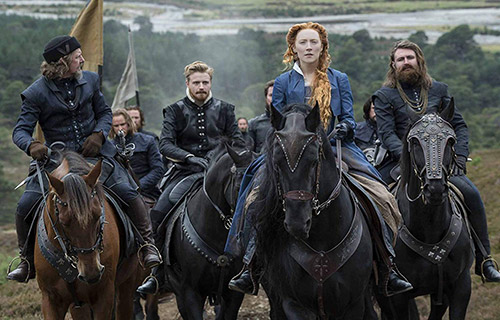 Mary Queen of Scots has World Premiere at AFI FEST 2018
This year's AFI FEST will close on November 15 with the World Premiere of Mary Queen of Scots, starring Saoirse Ronan as Mary Stuart and Margot Robbie as her cousin, Queen Elizabeth I. Directed by Josie Rourke, the epic historical drama was written by Beau Willimon and based on John Guy's book Queen of Scots: The True Life of Mary Stuart. The film, which follows Stuart's struggle to overthrow Elizabeth and its aftermath, will be released in the U.S. on December 7.
AFI FEST runs November 8 - 15 in Hollywood at the TCL Chinese Theatre, The Hollywood Roosevelt and The Egyptian. Some of the other world premieres at AFI FEST include the opening night film On the Basis of Sex about the life of Supreme Court Justice Ruth Bader Ginsburg and Bird Box, a post-apocalyptic thriller starring Sandra Bullock.
The screening of crime thriller Destroyer will follow a conversation with its star Nicole Kidman and Netflix will premiere the first three episodes of its new series The Kominsky Method starring Michael Douglas and Alan Arkin.
Tickets to the screenings, conversations and panels are free and can be obtained at www.afi.com/afifest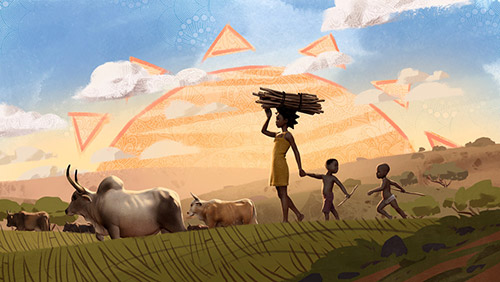 Liyana, winner of 28 Film Festival Awards, Now in Release
Five orphaned children from Swaziland, working under the guidance of acclaimed South African storyteller Gcina Mhlophe, collaborated to create the story behind Liyana, a genre-defying film – part animation, part documentary – that has gone on to win 28 Jury and Audience awards on the festival circuit.
Directed by Aaron Kopp & Amanda Kopp, Liyana features an original score by South African composer Philip Miller and animation by Nigerian artist Shofela Coker. The film has been described as "a tribute to creativity, the strength of the human spirit and the power of storytelling."


SXSW Film Fest Announces Speakers for SXSW 2019
Kevin Systrom, the CEO and co-founder of Instagram, and writer/producer/director Marti Noxon will be among the Keynote Speakers at the next South by Southwest (SXSW) music/film fest and conference, taking place March 2- 17 in Austin, Texas.
One of the featured speakers will be Susan Fowler, the former Uber engineer whose blog post exposed a toxic environment at that workplace and led to her being named Time magazine's "Person of the Year" in 2017.
Other featured speakers will include Jason Blum in conversation with independent filmmaker John Pierson, New York Times best-selling author Michael Pollan (In Defense of Food: An Eater's Manifesto) and futurist and author Amy Webb.

Documentary Filmmaker Michael Moore to Receive Critics' Choice Lifetime Achievement Award
The third annual Critics' Choice Documentary Awards, honoring the best in documentary features and non-fiction television, will be presented Saturday, November 10 in Brooklyn, New York, and hosted by science educator and TV host Bill Nye.
Oscar-winning documentary filmmaker Michael Moore, named one of Time magazine's "100 Most Influential People," is this year's recipient of the Critics' Choice Lifetime Achievement Award.

CALL FOR ENTRIES
Ongoing Deadlines
Chicago City Limits Comedy Film Fest
www.firstsundays.com
Hollywood Shorts
http://blog.hollywoodshorts.com


Inside Film Home | News & Views | Film Fests by Month
Screenwriting | Past Articles
All Inside Film logos, artwork, stories, information and photos are
© 1997-2018 Inside Film Magazine. All rights reserved.
Do not duplicate or distribute in any form. All other logos,
artwork and photos are © their individual owners.