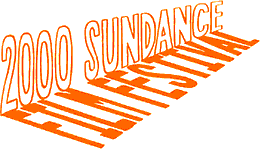 by Susan Royal
A Place for Discovery
The gods conspired with co-directors Geoffrey Gilmore and Nicole Guillemet to make this year's Sundance Film Festival the best in recent memory. Weather was perfect--snow on the ground, not flying in one's face while standing in line for the shuttle. The films were the most diverse from extremely experimental to widely accessible. The unofficial market that simultaneously takes place at Park City each January and detracts from the true spirit of the festival was highly civilized this year, perhaps because some of the usual players were absent or because no single film emerged as the big buzz film. Only a couple of fist fights broke out, both involving members of the media, perhaps desperate for something scandalous to write about?
| | |
| --- | --- |
| Robert Redford, presides at his annual filmmakers' brunch. | |
Robert Redford's annual fireside brunch held at the Sundance Institute, originally intended as a quiet opportunity for the invited filmmakers to meet each other, had in the last few years been spoiled by photographers obnoxiously surrounding Redford, impeding him as he attempted to visit each table and talk briefly with everyone. In earlier years I'd observed how much it meant to the filmmakers to shake Redford's hand and speak with him, even if only for a moment. Thank you, RJ Millard ( Sundance Press Officer), or whomever was responsible for making this year's brunch cozy, manageable and nearly paparazzi-free by comparison.

Redford stood in front of the fireplace and described for the assembled filmmakers the evolution of Sundance--the Institute's first Lab, the film festival, the creation of the Sundance Channel and the Sundance Cinemas. "We started seventeen years ago and our agenda hasn't changed as far as we're concerned," said Redford. "We hoped filmmakers would come together, discover new relationships and connections and hopefully there would be a synergy that would come about."

Redford distanced the festival from the marketplace which has sprung up around it. "What's happened over the years is that with the success of the festival came the merchants which created an outer veneer to the festival. And because that attracted the interest of much of the media, this sort of engulfed the festival and created a market which was really not our intention. The danger is that people get caught up in that. But I want you to know that we're here to support your vision, your skill, your talent and we try as best we can to do that."

Redford recounted the original impetus behind the formation of the Sundance Institute. "Years ago I had this idea which seemed to coincide with a golden opportunity at the time. Independent film was pretty limited by the perception of it being the bastard child of the industry. It was populated by an interesting group of filmmakers who couldn't get into mainstream Hollywood and were forced to work outside the system, not by their own choice. I saw an opportunity to work with this emerging talent and I hoped we could find a way to put our energies together, develop our skills and that's when the first Lab at Sundance came about. I wanted to create a sense of community because there's nothing quite like it when artists get together without the distraction of money and Hollywood -- free from the pressures that come later. Eventually projects emerged from the Labs and films were getting made and it led to the festival we have today."
| | |
| --- | --- |
| | Some of the women filmmakers at Robert Redford's brunch. |
No matter how many critically acclaimed films he may direct or produce, Redford cannot escape the public's ongoing perception of him as the consummate Hollywood movie star. And so he attempted to assure the group that he knew what it meant to struggle as a filmmaker, explaining, "For me personally, I don't come to this totally from the outside. I have my own experience with what a lot of you are feeling. In terms of frustration and certain anxiety about committing so much of yourself, so much of your own juice to a project, only to see it squandered or ignored or to be lied to about what's going to happen to it.

"I remember the first film I ever made, back in 1970 [Downhill Racer]. There was a lot of care that went into the film, a lot of sacrifices made and I was afraid the studio wouldn't understand what it was about. It was a portrait of a certain kind of character in society and skiing was only meant to be the backdrop. I chose it for the visual poetry and the danger in the sport and also because I like to ski. But the film wasn't about skiing. And the studio said they understood all that, but in truth they did go ahead and release it as an action film, something it wasn't. I was so naive at the time that I remember being frustrated when I saw the ads, but thinking I could change the way they were marketing it. I grabbed my coat and trumped around to district after district. Thank God for this guy who let me know it was a lost cause. He took me aside and said, 'Let me tell you something. Don't say I said it, but don't waste any more time. It's not going to happen -- the film has already been written off.' So that was a shock and it was of course upsetting, so I've been there."

The festival of 2000 may go down in Sundance history as the year in which new technology players from the digital and cyberworlds invaded Park City and Redford made reference to this commenting, "Now, because of the changing landscape becoming so volatile, it's created an anxiety out there that we can all feel with digital and new technology and the resulting changes in distribution."

In closing, he advised maintaining one's perspective and purpose in coming to Sundance: "Hold on as much as possible to why you're here, take time to meet one another, spend time with one another and try to not get sucked into the hype and the so-called buzz. On the issue of buzz, realize that the studios don't know what the public's reaction is going to be to a film before it opens. And much of the media jumps in desperation, trying get the scoop on what's hot. What's amusing to me is to watch how often they don't get it. The Blair Witch Project, for example, flew right under their radar last year. So a lot of the buzz that the media will feed on is empty. This is a place for discovery."
Filmmakers with Breasts
| | |
| --- | --- |
| Directors Valerie Breiman and Zeinabu irene Davis. | |
"Forty percent of the filmmakers here this year have breasts!" exclaimed writer/director Valerie Breiman at the Sundance premiere of her romantic comedy Love and Sex. It's true that more women than ever submitted their films to Sundance and more than ever were selected. There were six female-directed films apiece in the dramatic, documentary and premiere categories; two in the American Spectrum and seven in the World, Frontier and Midnight screenings.

Karyn Kusama's Girlfight, a film about a teenage girl's struggle to become a boxing champion, shared the Grand Jury Prize for Best Film in the dramatic competition with Kenneth Lonergan's You Can Count On Me. Top prize in the documentary competition went to two women--Francis Reid and Deborah Hoffman for Long Night's Journey Into Day, a powerful film about post-apartheid South Africa.

Some of the most innovative works at this year's festival belonged to the females. In Compensation, a highly experimental film inspired by the Paul Laurence Dunbar poem of the same name, filmmaker Zeinabu irene Davis explores both the Black and the deaf cultures via two parallel love stories about the relationship between a deaf woman and a hearing man. Both are set in Chicago -- one turn of the century, the other present day. The groundbreaking film blends archival stills, silent film-style title cards and moving black and white footage with a score that ranges from ragtime to African rhythms. It was a "seven-year odyssey" getting made, according to Davis, who points out that this is the first film starring a black, deaf woman -- the gifted and beautiful Michelle A. Banks.
| | |
| --- | --- |
| | Director Mary Harron with American Psycho star, Christian Bale. |
In the Frontier section, Mary Harron presented the world premiere of her much-anticipated American Psycho, starring Christian Bale in a tour de force performance. (After seeing it, one wonders how Leonardo DiCaprio would have fared in comparison if he hadn't changed his mind about stealing the role from Bale.) The film, adapted by Harron and Guinevere Turner from the Bret Easton Ellis novel, surpasses the original material in making a devastatingly sharp but entertaining comment on the worst aspects of '80s yuppiedom. Unfortunately, it's not entirely successful in keeping its tongue firmly planted in cheek, however, and often slips into the just plain grisly. Still, you have to admire Harron's direction and the Harran/Turner writing for those moments when they truly pull off something cinematically exciting, most notably in a scene involving a chainsaw and some Michael Jackson moonwalking.

Also premiering at Sundance was the extraordinary Twilight: Los Angeles, adapted by Anna Deavere Smith from her critically acclaimed one-woman play about the aftermath of the L.A. riots of '92. Directed by Marc Levin, the film was conceived, written and performed by Smith who received a much-deserved standing ovation after the film. In fact, the applause began at the end of the film, continued throughout the entire length of the credits and rose to a standing ovation as Smith took the stage. When the MacArthur Foundation awarded her the prestigious "genius" fellowship in 1996, it stated that Smith "has created a new form of theatre--a blend of theatrical art, social commentary, journalism and intimate reverie." It could be said that the film adaptation of the play has also created a new form of film which blends a virtuoso acting performance with documentary footage, social commentary, and personal interviews that contain intimate reverie.

Not at all experimental, but seemingly crowd-pleasing, was the opening night world premiere film screened in Salt Lake City -- What's Cooking? The film takes a look at four Los Angeles families -- Hispanic, African American, Vietnamese and Jewish -- on their respective Thanksgiving days. The director, Gurinder Chadha, co-wrote the script with Paul Mayeda Berges. It was the first British script to be invited to the Sundance Institute's Screenwriters Lab. At the premiere the director revealed why she was especially delighted about the location of her premiere. "As a young girl growing up in London, I used to think Salt Lake City was a very exotic place," she explained.
| | |
| --- | --- |
| Aidan Quinn and Janet McTeer in Maggie Greenwald's Songcatcher. | |
Women also made a strong impression in the acting department this year. Recent Golden Globe- winner Janet McTeer shone in the wonderful Songcatcher, written and directed by Maggie Greenwald. The film concerns a female musicologist who in 1907 "discovers" bluegrass music and its derivation from Scottish and Irish folk songs long thought lost to the world. A 13-year-old singer/actress named Emmy Rosen plays Deladis, a backwoods orphan who sings like an angel. After a screening of the film, director Greenwald cajoled the reticent Rosen (who, previous to the film, had only sung opera) to perform one of the bluegrass tunes from the film a capella -- much to the delight of the Sundance audience.

Several other performances were notable. Michelle Rodriguez delivers a blistering portrayal of the boxer in the terrific Girlfight and Radha Mitchell is riveting in the not-so-terrific Everything Put Together.
| | |
| --- | --- |
| | Holly Hunter gives one of her finest performances in Things You Can Tell Just By Looking At Her. |
Some big time Hollywood actresses are assembled in the wonderful Things You Can Tell Just By Looking At Her -- Glenn Close, Holly Hunter, Cameron Diaz, Calista Flockhart, Kathy Baker and Amy Brenneman. All are good, but Hunter and Diaz are particularly moving in this debut film written and directed by Rodrigo Garcia. How did the first-timer attract such a star-studded cast? Apparently there are some real advantages to developing your script at the Sundance Writer's Lab and then following up at the Sundance Director's Lab. It brought Garcia into contact with the film's future producer Jon Avnet and with Kathy Baker. (Plus, Glenn Close is on the Sundance Institute Board of Trustees.) Of course it's also helpful if you're a gifted writer, as Garcia clearly is, and if you come from good genetic material (Garcia's father is the Nobel laureate author Gabriel Garcia Marquez).
| | |
| --- | --- |
| Jen Arnold directed Maid of Honor. | |
While on the subject of good genes, Sofia Coppola brought her first directing effort, The Virgin Suicides, to Sundance and she seems to have made the right move from actress to director.

Women short filmmakers also made their presence felt this year. Jen Arnold's short, Maid of Honor, which has won numerous awards at other festivals, was a hit at Sundance as well. Emily Hubley's short, Pigeon Within, played in front of Lisa Krueger's entertaining feature, Committed, starring Heather Graham. Hubley's mother, the 75-year-old filmmaker Faith Hubley, was honored with the "Faith Hubley Animation" special screening of seven of her 23 animated films at Sundance. She brought her latest film, Witch Madness, which chronicles the 300-year hysteria which led to the murder of countless women in Renaissance Europe.
The Winners
For information on this year's winners and more, click here.

Inside Film Home | News & Views | Film Fests by Month
Screenwriting | Past Articles
All Inside Film logos, artwork, stories, information and photos are
© 1997-2020 Inside Film Magazine. All rights reserved.
Do not duplicate or distribute in any form. All other logos,
artwork and photos are © their individual owners.