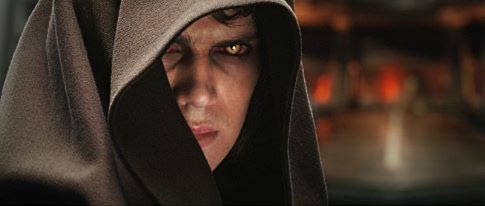 Hayden Christensen goes over to the dark side in
Star Wars: Episode III – Revenge of the Sith
GEORGE LUCAS' STAR WARS: EPISODE III – REVENGE OF THE SITH TO HAVE ITS WORLD PREMIERE MAY 15 AT THE CANNES FILM FESTIVAL
by Susan Royal
The final act of George Lucas' masterpiece will be presented to the world on May 15 at the Cannes Film Festival. (The next day, Lucasfilm and 20th Century Fox will, for the first time, screen all six Star Wars episodes back to back in London's Leicester Square.)
Gus Van Sant and Lars von Trier are two previous Cannes prize-winning directors who will have their latest films In Competition at this year's festival (which runs until May 22). Gus Van Sant's film, Last Days, was inspired by the Kurt Cobain story, and von Trier will present Manderlay, the second part of his trilogy which began with Dogville.
Director Jim Jarmusch will return to Cannes with his new film Broken Flowers, about a man who goes in search of his lost loves. The film stars Bill Murray, Jessica Lange and Sharon Stone – all of whom are expected to attend the Festival.
Tommy Lee Jones will present his directorial debut – a modern day western entitled The Three Burials of Melquiades Estrada.
Canada will be represented In Competition by director David Cronenberg's
A History of Violence and by Atom Etoyan's thriller Where the Truth Lies.
Woody Allen will screen his latest offering – Match Point, starring Scarlett Johansson – out of competition.
Twenty-two films will be presented in Un Certain Regard, the "discovery" section of the festival. Edward Norton stars in one of these films, Down in the Valley, directed by David Jacobson.
For more info, go to: www.festival-cannes.com.