CASABLANCA TOPS THE LIST OF "THE 101 GREATEST
SCREENPLAYS" OF ALL TIME
by Susan Royal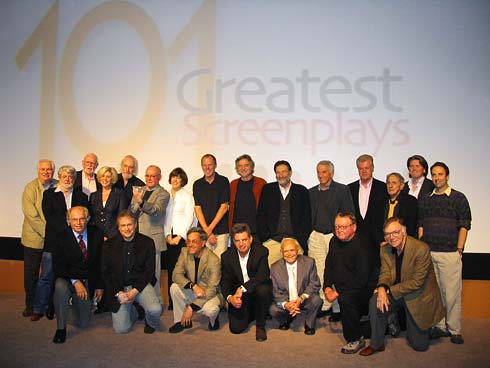 On April 6 the Writers Guild of America, west (WGAw) and Premiere Magazine co-hosted a gala tribute at the Writers Guild Theatre in Beverly Hills to honor the writers of "The 101 Greatest Screenplays," as voted on by some1400 members of WGAw and WGA East. Guild members were asked to send in their top ten favorite screenplays of all time. While introducing the evening's festivities, WGAw President Patric M. Verrone joked, "Since over 1400 different films were nominated, it appears everyone nominated one of their own films plus nine other great screenplays."
"This list and the films on it are meant to be scrutinized and criticized, dissected and collected, viewed and reviewed. They are the literature of our industry and the legacy of our nation," said Verrone.
The 101 selections were not unveiled in countdown manner, 101 to 1, but in several genre groupings. For example, the "Crimes and Punishment" genre included such scripts as Pulp Fiction (#16), Double Indemnity (#26) and Fargo (#32), while the "Heros and Anti-Heros" genre included such scripts as Cool Hand Luke (#82), Rocky (#78) and High Noon (#75). Host Harry Shearer lamented not being able to use his best Casey Kasem countdown voice due to this format.
One winning writer from each genre spoke briefly after clips from the genre were shown. In a hilarious rant, Callie Khouri (#72 Thelma and Louise) said she was more qualified to to "bitch and whine" about writing, than talk about it. "But I shouldn't be so surly and argumentative. There are a lot of great things about being a screenwriter...and I'm not just talking about the studio notes. There's all those bright, young, development execs who manage to know so much without ever having written a word themselves. I mean, in what other profession do you get so many experts weighing in on your work...certainly not in medicine or automotive repair."
Robert Towne (#3 Chinatown) said that just that day he had begun a new screenplay and "I was reminded that I didn't know anything about how to do it. But I try to stay focused on the vision of what I want the film to be. That's the way a lot of films were written in the '70s, with writers asking themselves what they wanted to see. I'm afraid that with today's corporate studio culture writers are asking themselves what they want to see that they think can get made. I hope more and more writers will go back to writing what they want to see period. I believe it's the difference between retaining your vision and slowly going blind."
The top ten screenplays chosen were:
1) Casblanca
Screenplay by Julius J. & Philip G. Epstein and Howard Koch
Based on the play "Everybody Comes to Rick's"
by Murray Burnett and Joan Alison
2) The Godfather
Screenplay by Mario Puzo and Francis Ford Coppola
Based on the novel by Mario Puzo
3) Chinatown
Written by Robert Towne
4) Citizen Kane
Written by Herman Mankiewicz and Orson Welles
5) All About Eve
Screenplay by Joseph L. Mankiewicz
Based on "The Wisdom of Eve" short story and radio play by Mary Orr
6) Annie Hall
Written by Woody Allen and Marshall Brickman
7) Sunset Blvd.
Written by Charles Brackett & Billy Wilder and D.M. Marshman, Jr.
8) Network
Written by Paddy Chayefsky
9) Some Like It Hot
Screenplay by Billy Wilder and I.A.L. Diamond
Based on "Fanfare of Love" by Robert Thoeren and M. Logan
10) The Godfather II
Screenplay by Francis Ford Coppola and Mario Puzo
Based on Mario Puzo's novel
The Godfather
The full list of 101 screenplays can be found at www.wga.org